BobCAD-CAM milling software delivers the functionality you need to complete everything from simple 2.5 axis cutting to complex 4 & 5 axis simultaneous milling. It incorporates a full range of sophisticated and fully associative machining strategies through a simple wizard driven interface to make programming quicker and easier, even for new and occasional users.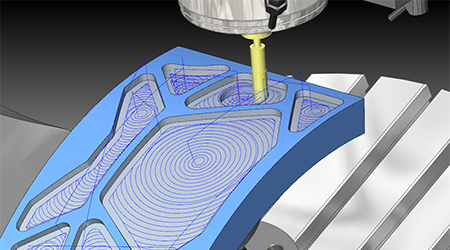 Easily Program Your 2D & 3D Parts!
BobCAD-CAM software for milling delivers advanced 2.5, 3, 4, & 5 axis cutting capabilities with a fully integrated CAD design system that allows you to seamlessly transition from designing your part model to assigning advanced milling toolpaths. The CAD-CAM software for milling offers powerful toolpath options to allow you to perform high speed machining and multiaxis cutting operations that take full advantage of your CNC milling machine's capabilities. BobCAD-CAD for milling provides CNC programming tools that deliver speed and efficiency to help you achieve fewer steps, better cuts, and more profits.
See Powerful CAD-CAM for Milling In Action
The BobCAD-CAM software for CNC milling machines will have you programming and cutting your parts faster and easier than ever…See for yourself, try it for FREE today!
More Power & Improved Performance
NEW MODULE:

3-AXIS Premium
The release of our new 3 Axis Premium gives users 8 additional surface based toolpaths: Parallel Cuts, Cuts Along Curve, Morph Between 2 Curves, Parallel to Multiple Curves, Project Curves, Morph Between 2 Surfaces, Parallel to Surface, and Flowline. Flowline and blended toolpaths, along with the ability to do undercutting, gives users unsurpassed control and the best possible finishes.
NEW FEATURE:

Network Licensing
Newly introduced network licensing eliminates purchasing a licensed copy of the software for each individual workstation. Instead, licenses only need to be purchased based on the number of stations you may need active simultaneously. Those licenses are stored on the server and and available from any connected station, unified by a single login and password.
The all-new Version 29 CAD-CAM software makes CNC programming faster, easier, and more efficient than ever before. It builds on 30 years of CAD-CAM innovation which includes a powerful 2D & 3D CAD design system, an easy to use wizard driven CAM Programming interface, Dynamic Machining Strategies™, advanced 2-5 axis high speed adaptive toolpath capabilities, realistic simulations, and much more.
See What's New
The Brand New Features of v30 CAD-CAM for CNC Programming and Machining
Version Comparison
Compare version features
Toolpath Matrix
Features toolpath comparison