BobCAM milling software, a plug-in for SOLIDWORKS™, delivers the functionality you need to complete everything from simple 2.5 axis cutting to complex 4 & 5 axis simultaneous milling. It incorporates a wide range of sophisticated and fully associative machining strategies using a simple wizard driven interface to make programming quicker and easier.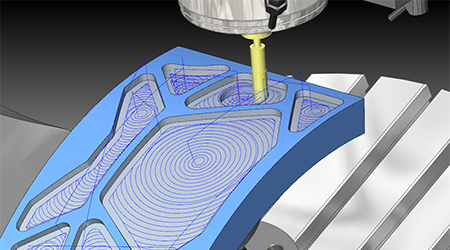 Easily Program Your 2D & 3D Parts!
BobCAM for SOLIDWORKS™, a Gold Partner CAM add-on for Mill, provides fast access to powerful machining strategies capable of handling your most complex parts. Built into the latest SOLIDWORKS™ design software, this product offers a single window integrated CAM solution with advanced 2.5, 3, 4, & 5 axis toolpaths designed to optimize cutting speed and efficiency. BobCAM makes it easy to go from design to finished product in less time.
See Powerful CAM Software for Milling in Action
BobCAM software for CNC milling machines will have you programming and cutting your parts faster than ever. See for yourself – try it today for FREE!
In this latest version of BobCAM for SOLIDWORKS™ Gold Partner CAM solution, we've packed more features, modules, and all around system improvements than ever before. We've added two completely new modules, Mill Turn and BobART, and made numerous system improvements including better surfacing toolpaths, smarter hole making capabilities, more tool types, improved simulation, and more. With revamped mill drilling, the addition of custom tools, tabbing for profiling, and wrapped/4-axis toolpath enhancements, this is the most versatile version of BobCAM for SOLIDWORKS™ yet
See What's New
See the New Features of V5 CAM Software for CNC Programming
Toolpath Matrix
Features toolpath comparison